Our J&K's solid wood cabinet finishes are processed thorough the following excellent craftsmanship details: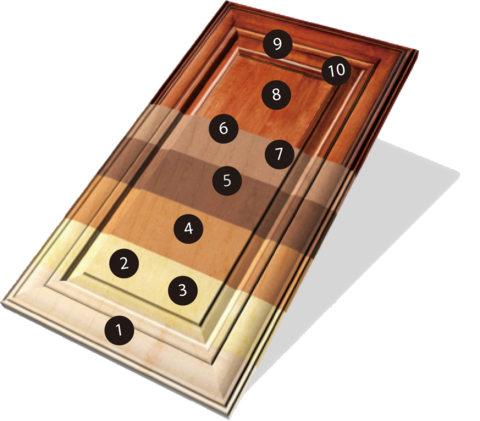 NOTE: Not actual product; image for reference only.
The finest solid wood is sanded until smooth and vacuumed.

An equalizer stain is applied to balance the base color of the wood.

A toner is applied to establish color uniformity.

A deep penetrating stain is applied to reveal the hidden beauty of the natural grain.

All stained surfaces are hand-rubbed and wiped of excess stain, and then slowly air-dried.

A wood sealer is applied, penetrating all exposed wood surfaces for uniform protection.

All surfaces are hand-sanded, providing a smooth, consistent surface.

A glaze is applied by hand (if applicable).

A color consistency examination is performed with additional touch-up if needed.

A final protective top coat is applied, maximizing resistance to scuffing, moisture, fading and most household chemicals.